♥ The 20th Anniversary of Richard Clayderman's China Tour 2012 Beijing ♥
► Date: Tuesday, Dec 25, 2012
► Venue: Beijing Great Hall of the People
► Tickets: 180 / 380 /680 /980 / 1280 /1500[680*3]/1600[980*2]/ 1680 / 2012/ RMB
► Buy Tickets At:http://www.gettickets.cn/product.asp?id=545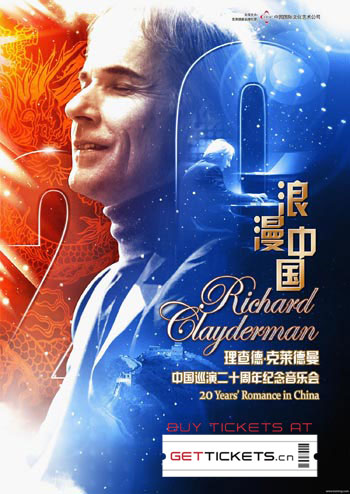 Richard Clayderman is a French pianist who has released numerous albums including the compositions of Paul de Senneville and Olivier Toussaint, instrumental renditions of popular music, rearrangements of movie soundtracks, ethnic music, and easy-listening arrangements of most popular works of classical music.
The 20th Anniversary of Richard Clayderman's China tours
Richard Clayderman, the French pianist known as Prince of Romance, has achieved great success in China in the 20 years between 1992 and 2012 with a series of unbelievable record of more than 30 tours consisting of 200 live shows with more than 1,000,000 spectators in 70 cities, while hundreds of millions TV viewers enjoyed his performances in special events. Based on Chinese subjects, he has created and shot two MTVs. In addition to these, he has also rearranged and recorded dozens of Chinese musical works. Ten collections of his golden hits, memorial books including 50 classic piano parts have been published. He is the winner of the awards for the most popularized and the excellent shows on the 2nd TOP TEN Performances in China.